This Summer while providing a stabilizing influence on violent domestic uprisings, the Trump administration is also sending out warnings that something is about to break loose in the working relationship between the Chinese Communist Party (CCP)  and the United States, pointing out that American business needs to pay attention to regime's negative history on Human Rights in their own region for what looks like bad Pubic Relations for those American companies.
"General Secretary Xi Jinping made a choice to violate the Chinese Communist Party's promises to the Hong Kong people and in an UN-registered treaty. He didn't have to do it. But he did. We have to deal with China as it is, not as we wish it to be," Pompeo said Monday.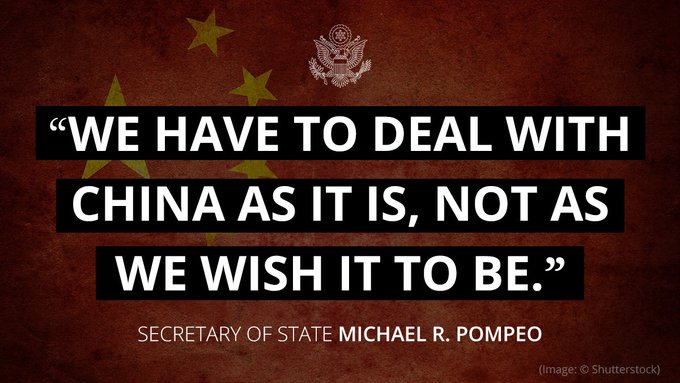 Sunday Pompeo was on Fox News with Maria Bartiromo and spoke in-depth, giving warnings to American companies such as the National Basketball League (NBA), who have been boldly advocating for the CCP over the past year.
"We are sending a message to China, if you want to participate on the world stage you can not behave like this, you can not use slave labor, forced sterilization, and abortions, and they have deep ties to businesses in the United States. We are going to impose deep costs on those businesses.  We have told US Businesses to take a deep look at their supply chains.  Some brand names do not want to be connected to what is happening there [in China]," Pompeo said referring to the shocking video of people being blindfolded, shackled and being led to trains, below.
WATCH
"The NBA and other companies who want to do a deal with China are becoming more aware of the national security problems we have with doing business with China, in the past we let things go on that we should not have allowed. We have told them they need to stop participating in these systems have had human rights problems. I am confident American business will evaluate what is the best thing to do," Pompeo said.
"The mission President Trump gave us is zero percent risk to the American people to deal with these issues, and that is what we are going," Pompeo said.
"The CCP is running espionage and attempting deep influence of politicians and businesses, to undermind democracy and put America at risk, and we are acting upon it.  We are going to protect the American people from these influence operations. We are getting almost every member of Congress inline with understanding the human rights violations and the threat from the CCP.  We have Nations coming inline together and on the side of freedom. We hope to get every member on board," Pompeo said.
Talking about the problem with Democrat Senator Diane Feinstein, Pompeo answered questions about the statement she had made about China just days earlier.
Diane Feinstein @JRNyquist

She says, China is "growing into a respectable nation."

"pulled tens of millions out of poverty"

2018: Feinstein's driver and gopher was a Chinese spy.

Worked for her for 20 years.

Video via @thejcoop via @FreeBeacon
pic.twitter.com/oDTptRVPOd

— Dalton (@DaltonReport) July 30, 2020
"There is something not quite right there, [with Feinstein] and her statement about China, these are adversaries who intend harm to her citizens in California and she is undermining America's effort.
"Freedom-loving people in Hong Kong were inline to crush the party, so the party canceled the election. This is the kind of thing we have seen from the CCP leadership. We have increasing support from the world. It is in other nation's best interest to be sovereign against the Communist Party as well, he said.
WATCH: