Unless you have been living on the moon, you know how Andrew Cuomo screwed up the Virus mess. He ordered patients with Coronavirus to be admitted into nursing homes, killing thousands in the process. Now, a very important document is missing, and no one "noticed it" until now.
Fortunately, the internet is forever, and you can still things that have since been deleted. Throughout the country, that same policy was followed by other Democratic governors. Sending a deadly disease into a home with our most vulnerable.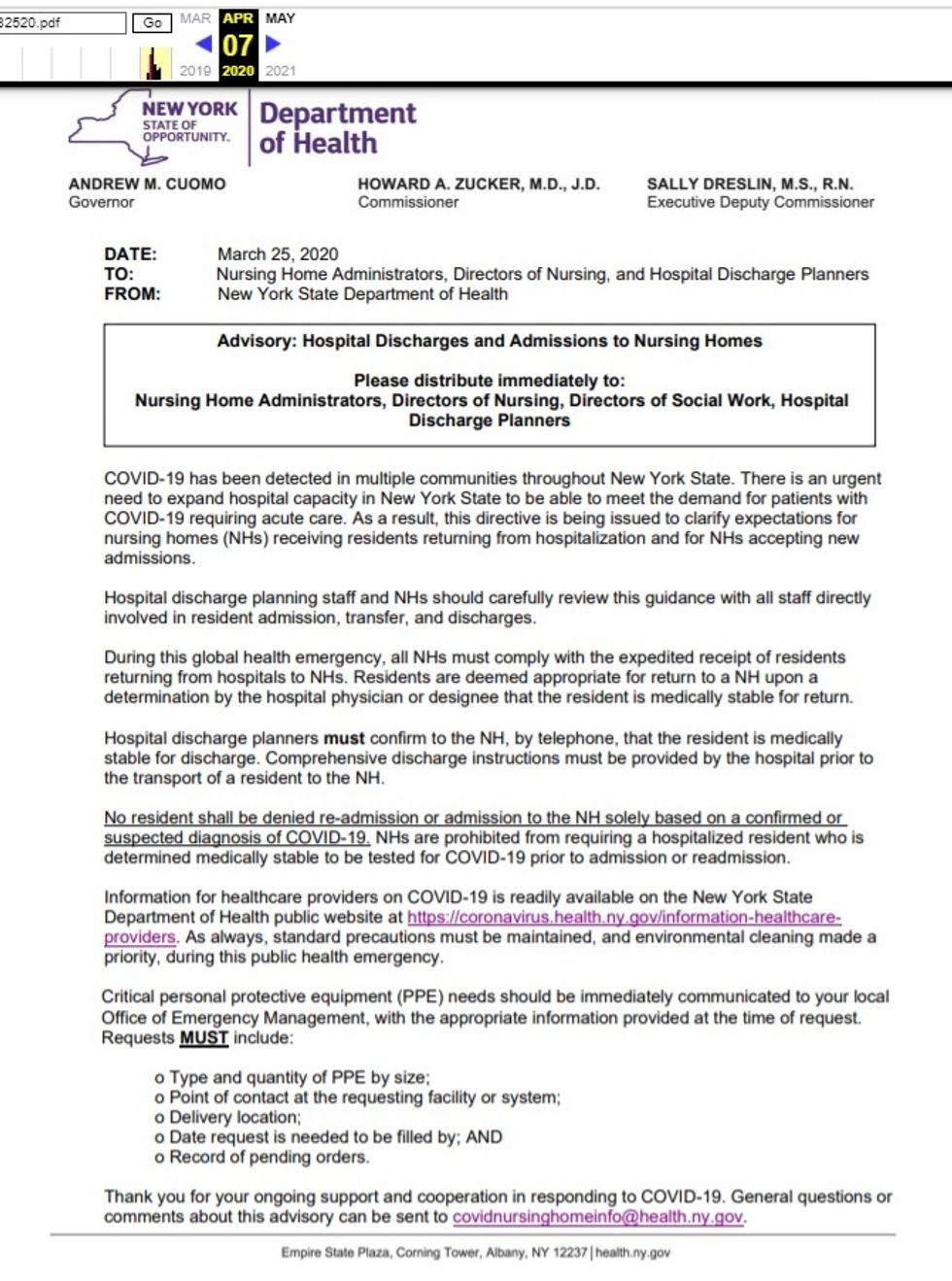 Nursing home deaths in New York are over 6,600. But, that's all. Any person moved from a nursing home to the hospital with Coronavirus was not counted as a nursing home death. How much difference could that make?
Riverdale Nursing Home in the Bronx recorded just four deaths due to COVID-19 in its facility. But seventeen more patients were transferred to hospitals and died there. So, even though the official counts say 4 there 21 deaths total. That is a huge difference. That begs the question, what is the real death total?
It's could be anyone's guess.
Did Cuomo really need to lump virus patients with the infirm? No. President Trump sent a medical ship to New York and a field hospital was set up in the Jacob Javits Convention Center. They could have sent all of their patients to those facilities and kept it isolated. They could have utilized them. But they did not. This is almost a criminal act, wouldn't you agree?
Nearly every time Cuomo is questioned about New York's nursing home death toll, he brushes off criticism as politically motivated and notes that his state's percentage of nursing home deaths out of its overall COVID-19 death toll is around 20%, far less than Pennsylvania's 68%, Massachusetts' 64% and New Jersey's 44%.
"Look at the basic facts where New York is versus other states," Cuomo said during a briefing Monday. "You look at where New York is as a percentage of nursing home deaths, it's all the way at the bottom of the list."
In another briefing last month, he touted New York's percentage ranking as 35th in the nation. "Go talk to 34 other states first. Go talk to the Republican states now — Florida, Texas, Arizona — ask them what is happening in nursing homes. It's all politics."
Now, we find out that the records online are missing and an error message comes up instead. The document showing the order has vanished completely. This is just one more step in Andrew Cuomo's request that people blame others for what he did.
Thanks. What I did not get a chance to mention is that it appears Cuomo's infamous March 25th order forcing nursing homes to accept COVID patients has been *deleted* from NYS websites. Was it inconvenient to have the truth readily available when he decided to blame Trump? https://t.co/CyPslDsyqQ — Tammy Bruce (@HeyTammyBruce) May 26, 2020
The four worst states for nursing home deaths are Pennsylvania's 68%, Massachusetts' 64% and New Jersey's 44%. NY stands at 20% but remember, they fudged their numbers as explained earlier in this article. Notice that all four states have Democrats for governor and all sent COVID-19 patients to nursing homes.
Despite the fact that all four governors exposed nursing home patients to people infected with the virus, they still blame their massive death tolls on the president. I guess the president has a very responsible job. No matter what Democratic governors screw up in their states be it the virus or the riots, they place the responsibility on President Trump.