A Florida man, attired in black bloc clothing like the type worn by Antifa has been arrested after he was apprehended near the Tampa Bay area where a rally for a J6 political prisoner rally was taken place. He had an explosive device on him and they found more when they searched the home where he lived with his parents. Garrett James Smith, 22, was arrested near the rally for political prisoner Jeremy Brown.
There was a crowd of approximately 85 protesters gathered at the Pinellas County Justice Center in Clearwater on Thursday night when police spotted running away from the rally for Brown. Brown — a former U.S. Army special forces soldier is also a member of the conservative Oath keepers. Brown was arrested for allegedly "knowingly entering or remaining in any restricted building or grounds without lawful authority" on January 6th.
The Pinellas County Sheriff's Office said in a press release:
"At approximately 7:24 p.m., deputies in the area observed a male, later identified as Smith, dressed in all black clothing, a face covering, and carrying a black backpack, running away from the direction of the protest."
Smith was apprehended just one block from the rally by police. When they searched his backpack, they found a pipe-type explosive device. They got a search warrant and found more explosive devices in his home.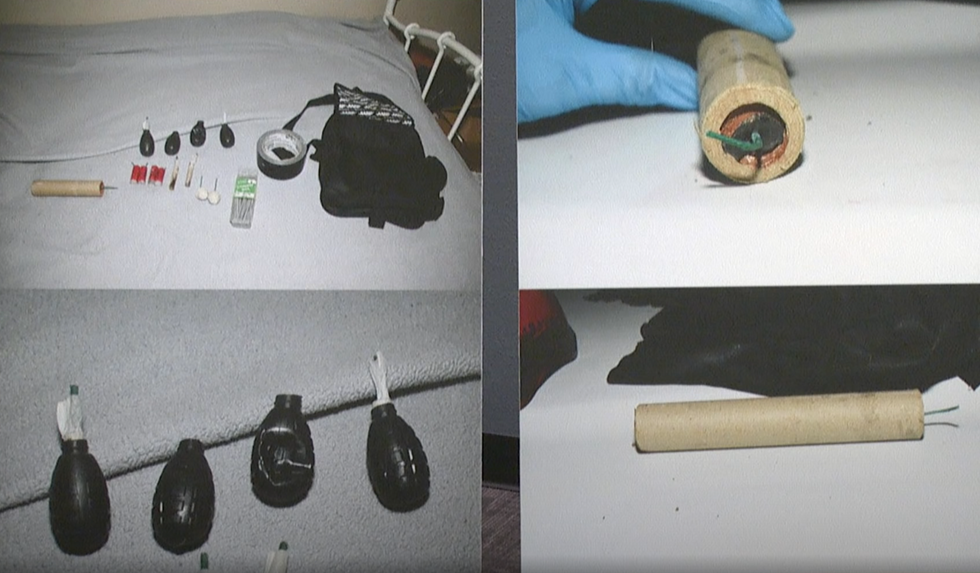 Also found in Smith's backpack was a black helmet with stickers often seen on the helmets of members of antifa and a symbol containing three red arrows with a circle around them.
Writer Chris Tomlinson explained the origin of the "Three Arrows" symbol:
The Three Arrows, the symbol of the Eiserne Front (Iron Front), originate in Weimar Germany and were adopted by the Social Democrats (SPD) to fight the Nazis, Communists (who they rightfully saw as puppets of the Soviet Union) and Monarchists who wanted the Kaiser to return. The Iron Front were a paramilitary organization that believed in violence. More recently the Three Arrows have been adopted by the US Antifa movement.
There was also a "Direct Action Checklist" in the backpack. The handwritten checklist has three categories: "Clothing," "Armor," and "Gear."
The list recommended wearing all black clothing, a balaclava, gloves, a black helmet, shaded goggles, a gas mask, knee pads, elbow pads, a sports chest plate, and a personal shield. The checklist also listed other questionable items such as smoke rockets, zip ties, duct tape, a black umbrella, black balloons, flammable rags, matches, a slingshot, pepper spray, a collapsible baton, construction nails, laser pointer, road flares, and binoculars.