It is not hard to figure out why Facebook is so content on censoring posts favorable to Trump and hiding posts detrimental to Joe Biden. Anna Makanju works for Facebook today. But in the past, she worked as Biden's advisor on Ukraine. Why conservative voices are being silenced by Facebook is no longer a mystery.
Facebook has for years heavily censored conservative voices but this year it has been decidedly worse. That's because the Democrats have the weakest candidate than they have had since 2016. He needs loads of protection against his gaffes of the day as well as revelations on how the Biden Crime Family is able to accumulate large sums of cash from foreign governments.
Over the last three weeks it has become worse. Makanju is the likely reason. She is Facebook's lead executive on Election Policy. She may no longer be on the payroll, but she is still working for Joe Biden. She is still kissing his ring.

FOOL [email protected]_NELSON·Anna Makanju, @Facebook's public policy and legal expert leading efforts to ensure election integrity, was @JoeBiden's senior policy advisor for Ukraine. She should recuse herself from the @nypost stories.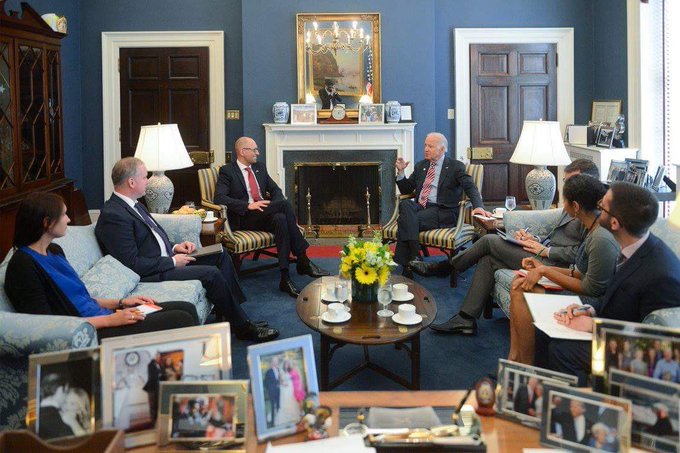 In the previous picture is Joe Biden, Eric Ciaramella and Makanju. All of the plotters in one picture. They are still working together. She also was the Director for Russia at the National Security Council and the Chief of Staff for European and NATO Policy in the Office of the Secretary of Defense.
Her position as a senior employee at Facebook handling content regulation may have given her an opportunity to influence the social network's decision to suppress a New York Post story revealing that Joe Biden's son Hunter, then on a lucrative contract with the Ukrainian energy giant Burisma, introduced the then-Vice President to an executive at the company.
Anna Makanju, Biden's senior policy adviser for Ukraine at the time, also listened to the calls and said release of the transcripts would only strengthen Biden's case that he acted properly. She helped Biden prepare for the conversations and said they operated at a high level, with Biden using language such as Poroshenko's government being "nation builders for a transformation of Ukraine."
A reference to a private company such as Burisma would be "too fine a level of granularity" for a call between Biden and the president of another country, Makanju told The Fact Checker. Instead, she said, the conversation focused on reforms demanded by the International Monetary Fund, methods to tackle corruption and military assistance. An investigation of "Burisma was just not significant enough" to mention, she said.
It is time to break up the masters of the universe and put regulations in place that will punish them if they so much as breath wrong. Election interference cannot be allowed to continue.