Centennial Elementary School in Denver, Colorado has announced the indoctrination of kindergarteners and first graders to disavow the nuclear family and to embrace Black Lives Matter. It could become confusing for them. The next time they get lost in the mall, instead of looking for a man or woman with a badge, they will have to look for someone setting fire to or looting a store. In the name of social justice, of course.
It could get hairy on birthdays and Christmas after you reject your nuclear family though. The pickings could get pretty slim. And forget asking for money to go to a movie or any other activity enjoyed by the normal nuclear family.
If the school really wanted to promote Black values, they would be better off teaching them about real Black heroes like Harriet Tubman, Frederick Douglas, Rosa Parks, and Martin Luther King Jr. People who fought for the Black race against the evil Democrats who want to keep them on the plantation still in 2022. It has always amazed me how white liberals think they know what Black Americans want and need.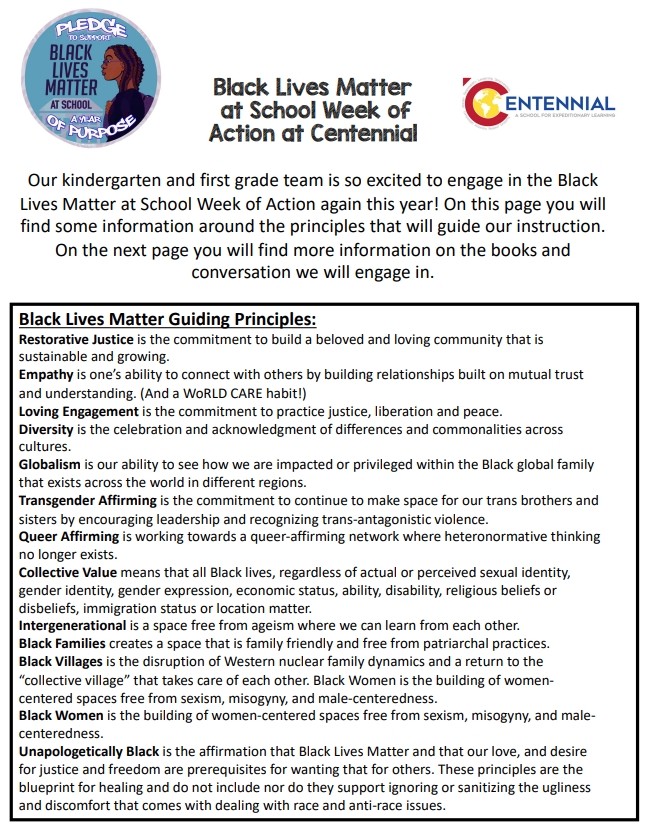 Parents do not let your children be indoctrinated. Teach them yourself to love and respect others regardless of skin color and help them understand that prejudice is wrong and that it is best to try to understand everyone on a personal level. Hatred only destroys the hateful.
Education advocacy organization Parents Defending Education (PDE), who also obtained the "week of action" documents, filed a civil rights complaint against Denver Public Schools (DPS) in response.
But, as the "week of action" is aimed at five-, six-, and seven-year-olds, Centennial believes, "It is never too early to start to talk to kids about race," according to their frequently asked questions page about Black Lives Matter. Centennial assures parents who are worried about teaching politics in the classroom that Black Lives Matter is "not political," because the U.S. Government decided that openly supporting the group was not a Hatch Act violation for federal workers.
PDE Outreach Director Erika Sanzi told the Washington Examiner that teaching Black Lives Matter principles is "indoctrination at any age" and "borders on abuse with students this young."