Democratic Rep Bill Pascrell of New Jersey has filed charges against 23 Trump lawyers including Rudy Giuliani, demanding that they all be disbarred for representing Donald Trump. I guess Republicans are forbidden to have their day in court. Of course, Pascrell does not want Democrats having their day in court even when they are caught red handed.
Pascrell is a clown and his demand is hilarious. He said that the lawyers were "attempts to overturn the election and demolish democracy." Democrats have been trying to overthrow the country's government since the day Trump was elected.
There was the Russia hoax and the Ukraine impeachment hoax and many hoaxes from the lamestream press including the New York Times, the Washington Post and the Atlantic. Pascrell was in the middle of some of it. Let's hope the Bar Association does not decide to go rogue. If they do, they should receive major blowback.
Pascrell unleashed his anger on 23 lawyers as he filed complaints in Pennsylvania, Arizona, Michigan, Nevada, and New York .
Pascrell said:
"The egregious pattern of behavior by Mr. Giuliani to effectuate Mr. Trump's sinister arson is a danger not just to our legal system but is also unprecedented in our national life. In carrying out that perversion, Mr. Giuliani has clearly violated the New York Rules of Professional Conduct he swore to uphold and should face the severest sanction your body can mete out: revocation of his law licensure."
Pascrell accused Giuliani and the other lawyers of participating in "frivolous lawsuits," using the court system to "assault public confidence in the United States electoral system." He also said that they engage "in conduct involving dishonest, fraud, deceit or misrepresentation."
Trump's legal team have made numerous allegations of wide-scale voter fraud. However, they have not backed their allegations with concrete evidence in court.

Their failure to substantiate their allegations publicly has earned scorn from Republican lawmakers, Fox News host Tucker Carlson, and even staunch allies of Trump, like former New Jersey Gov. Chris Christie, who called Trump's legal team a "national embarrassment."

One of the Trump legal team's latest losses came in Pennsylvania over the weekend, when a federal judge denied their request to invalidate millions of votes. Doing so would have amounted to violating the Constitution, the judge said.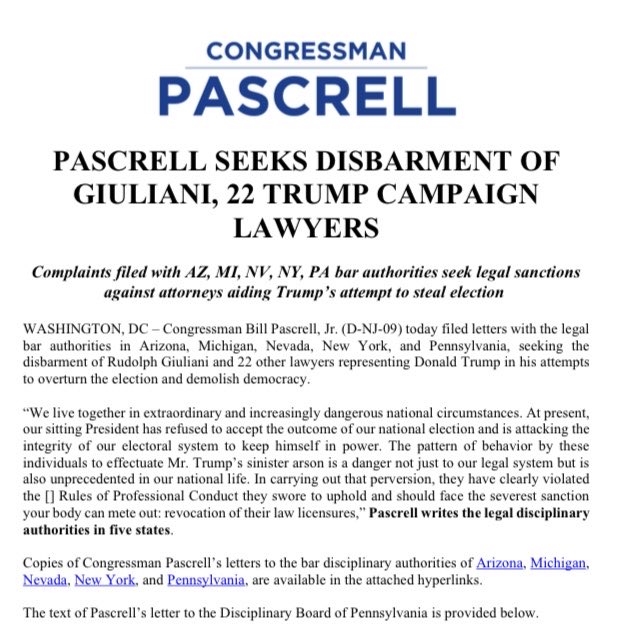 Pascrell said that Trump and his lawyers have committed crimes against the United States including treason. So, where was he through three years of investigating Trump for collusion with Russia with zero evidence or even reasonable cause to suspect collusion?