The Democrats have been trying to call the evidence from Tony Bobulinski, a former business associate of Hunter Biden, "Russian disinformation."
But one very liberal Democrat disagrees. Rep Ro Khanna, who is friends with Bobulinski, who has donated to Khanna's campaigns, defended him in an email that has been discovered.
Rep. Ro Khanna of California told Tony Bobulinski, that he would defend Bobulinski against the Democratic smears in a message obtained by Fox News reporter, John Roberts.
Bobulinski is a lifelong Democrat who has donated to Democrats and never to a Republican. But, he still came forward with his evidence after Biden and his pals used him as a fall guy. Since then, Devon Archer has had his conviction reinstated and he is awaiting sentencing.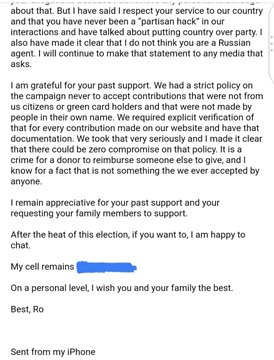 Khanna wrote in the email:
"Tony, hope you are doing okay. I did give an on the record statement to The NY Times that I know you, you have always acted honorably with me, and you and other family members supported me."
"I have told any media outlets that have asked the same thing."
"But I have said I respect your service to our country and that you have never been a 'partisan hack' in our interactions and have talked about putting country over party."
"I also have made it clear that I do not think you are a Russian agent,"
Khanna says he will repeat that answer to any reporters who ask. Khanna also told Bobulinski that if he wants to chat they can do that right after the election.
Bobulinski told Tucker Carlson that the reason he went public was that serial liar Adam Schiff accused him of being Russian disinformation. If the Republicans retake the House, their first order of business should be expelling Schiff from his seat in the House.
The intelligence community has said that that the information from Bobulinski's emails is not Russian disinformation and all of the information, so far that has been investigated has been proven to be legitimate. The accusations are just an attempt by the Democrats and the media to save Biden's sagging campaign.