That Joe Biden sure hates free speech. As soon as Elon Musk buys Twitter to allow free speech, Biden creates a group connected to the DHS to block free speech, installing anti-free-speech advocate,  Nina Jankowicz. It is called the "Disinformation Governance Board" and they will have the power to halt free speech by labeling it as misinformation and a threat to national security. Jankowicz will decide on what is misinformation based on her far-left ideology.
President Biden has decided the federal government will launch a Disinformation Governance Board under the authority of the Homeland Security Department

Did you just think they would let you have free speech back?

— Jack Posobiec 🇺🇸 (@JackPosobiec) April 27, 2022
Consider this, for the last six years anything that was seen as hurting the Democrats, including Hunter Biden's laptop has been labeled misinformation. And remember, Democrats, use a wide definition of what is national security, including climate change and white people. Remember the infrastructure bill? Democrats insisted that universal pre-kindergarten, free community college, and strengthening unions were infrastructure. The Democrats just couldn't afford free speech to exist in the People's Republic of Biden.
News of the board was first announced by DHS Secretary Alejandro Mayorkas:
 "Our Undersecretary for Policy, Rob Silvers is co-chair with our Principal Deputy General Counsel, Jennifer Gaskell, in leading a just recently constituted misinformation disinformation governance board. So we're bringing — the goal is to bring the resources of the department together to address this threat."
The disinformation board will be led by executive director Nina Jankowicz, who, as Posobic reveals in a series of tweets, is an anti-free speech crusader and committed member of the radical left. She has even made her stance clear about crucial issues like the censorship of the Hunter Biden laptop and the stolen, rigged 2020 election. Unsurprisingly, Jankowicz has publicly slandered 2020 election concerns as damaging lies, backed the proven-false claim that the laptop from hell was Russian misinformation, and openly admitted to being just as concerned about "domestic misinformation" as she is about "foreign misinformation."
In other words, the worst (or best) person for the job, depending on which side you are on.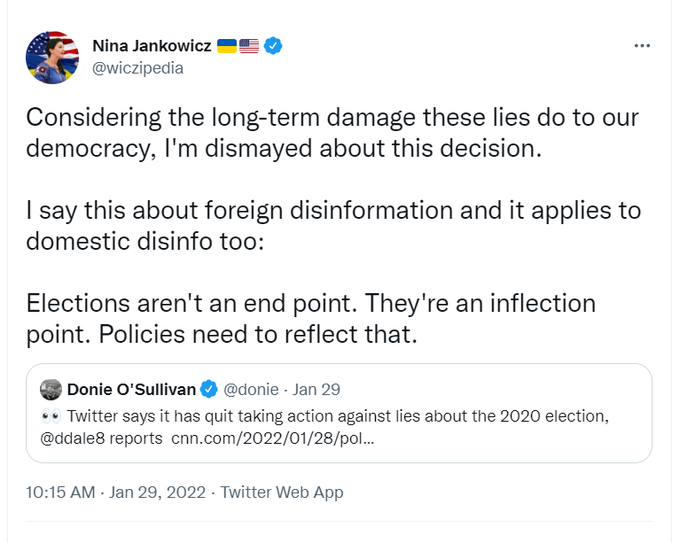 Jankowicz is also known for forming a Harry Potter "wizard rock band" known as the Moaning Myrtles. pic.twitter.com/5OGpJMR56n

— Jack Posobiec 🇺🇸 (@JackPosobiec) April 27, 2022
Here's Nina in 2020 pic.twitter.com/u0oy72QuO5

— Jack Posobiec 🇺🇸 (@JackPosobiec) April 27, 2022
Another massive red flag uncovered by Posobic's digging – Jankowicz, while working as a member of the Fulbright-Clinton fellowship, was an advisor to the Ukraine Government on "strategic communications" – Aka. Propaganda.